If you're looking to add to your byway adventure at a more leisurely pace, the Mobile Bay Ferry may be just the stop for you. The ferry offers year-round service across Mobile Bay between Fort Morgan and Dauphin Island. Tickets can be purchased at varying rates for passage. No matter where you'll arrive, the journey is a destination in itself.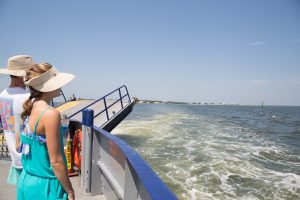 Headed east on the ferry toward Gulf Shores and Orange Beach? You may appreciate a stop at Fort Morgan upon your arrival. This pentagonal Civil War masonry garrison has more than 150 years of history. Fort Morgan is unique, as it was built on the site of another fort from the War of 1812 called Fort Bowyer.
For those headed toward Dauphin Island, you're in for a well-hidden treat. Dauphin Island is known for its expansive views of the Gulf of Mexico, and a beautiful but eroding shoreline, where another fort dutifully guards the coastline. When you visit Fort Gaines, you can step back into history and relive the past. More than three centuries of history are encapsulated in the well-preserved fort.
The Audubon Bird Sanctuary is one of the top areas in the nation for viewing spring migrations. Bring your nature-loving friends and family along to document how many different bird species you can spot in an afternoon. Want to learn even more about the wildlife opportunities and ecology of the area? A visit to the Estuarium at the Dauphin Island Sea Lab is an enlightening look at all that the area has to offer complete with engaging and interactive exhibits.
Climb aboard for a peek into the mystery of life on the other side of the pond — or bay in this instance. Whether you'll camp for a week, hike, bike, or fish your time away, allow yourself to slow down and savor the little breaths between moments.