If you love the sounds of spring as much as you do the sights, make sure to make a stop at the Dauphin Island Audubon Bird Sanctuary. The Audubon Bird Sanctuary holds a top-four spot in the nation for viewing spring migrations. Whether you cross the little bridge over to Dauphin Island or ferry over from Fort Morgan toward Gulf Shores and Orange Beach, you're sure to find a little magic in this bit of untouched wilderness.
There are more than 100 species of native birds and plenty of opportunities to learn about the colorful (in hue and personality!) wildlife of the area. It's not just gulls, especially in the spring! During this season there's so much to celebrate along the waterside drive. There are dozens of sites perfect for springtime photos, and it's always nice to bond with your family or friends over a road trip.
Not only is spring a top time to visit for birding opportunities, but fall is as well, as Dauphin Island is the last stop before these neo-tropical migratory birds fly home. Whether you've got a destination in mind already or are just along for the journey and the scenic drive, your drive will be sweeter with a family trip along Alabama's Coastal Connection.
When enjoying hiking trails, gardens, and sites along the beach, make sure to follow the common rule "leave no trace." When you leave a campsite or natural area — especially the many wildlife preserves, state parks, and bird sanctuaries along Alabama's Coastal Connection — no one should be able to tell you were there. Dispose of garbage, plastics, and human waste in accordance with local ordinances. And use common sense in other areas. Everyone wants to be able to enjoy the scenic byways and dozens of naturally beautiful sites and activities along the Gulf Coast for generations to come!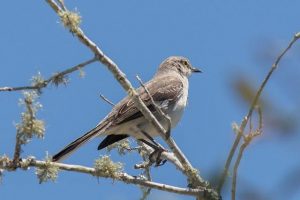 Don't forget to enjoy the sunset along the white sandy beaches if the weather is nice. Smell the Gulf water, the trees, and the fragrant flowers. Springtime on Alabama's Coastal Connection is a feast for all the senses. Hop onto the scenic byway today and check out our interactive map to plan your routes.