If improving your health was a resolution or goal for 2020, walking or biking along the Eastern Shore Trails will help you accomplish it.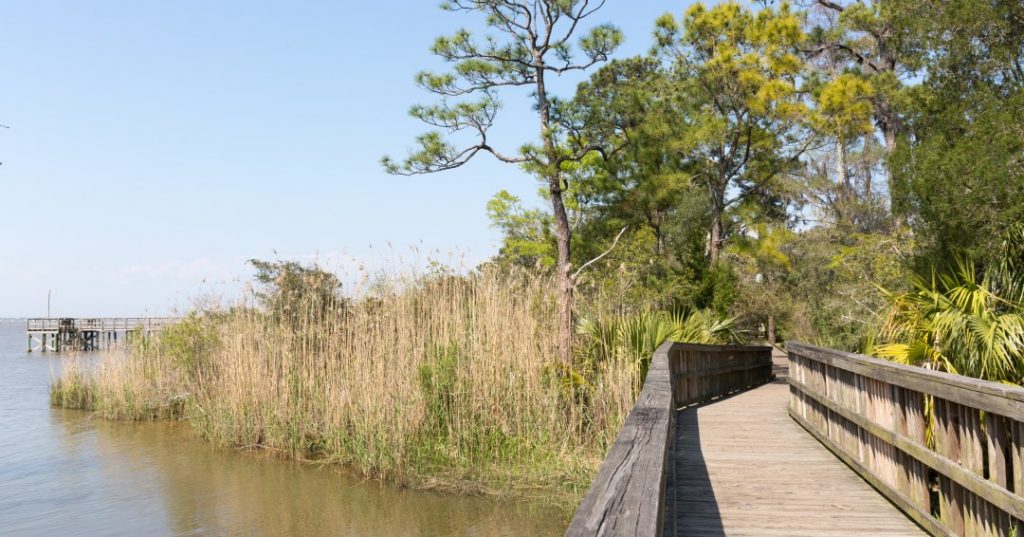 The trail begins along Weeks Bay on Hwy. 98 just west of Magnolia Springs, next to the boat launch west of the bridge. Walk or bike west along the paved trail to nature trails along the Weeks Bay Reserve. The reserve boasts two boardwalks with a free educational interpretive center. One boardwalk leads out to Weeks Bay and the other leads out to the pitcher plant bog and Fish River.
After you immerse yourself in the nature of Weeks Bay, continue traveling west to Mullet Point Park on Mobile Bay, where you will find a lovely picnic area and beautiful views of the bay. From there, you can walk or bike five miles along the trail to the Grand Hotel or Pelican Point and enjoy an ideal view of the bay, as well as a snack or meal. History buffs may want to ride over to the Confederate Rest Cemetery where 300 soldiers were laid to rest after losing their lives during the Battle of Vicksburg.
The Eastern Shore Trail continues through downtown Fairhope, to the Municipal Pier and past the Flower Clock leading into Montrose. Experienced cyclists enjoy heading north on Scenic Highway 98 through hilly, winding roads and residential communities.
The trails extend as far north as Daphne. The secluded path there leads down to Mobile Bay at May Day Park in Old Towne Daphne. Another idyllic spot to walk is the Village Point Park Preserve. As the trail winds down to Jackson's Oak and the waterfront beach and pier, it eventually connects to the Bayfront Park boardwalk.
The Bayfront Park boardwalk provides a scenic walk along the coastal flats and leads to a large public beach and pier to view lovely sunsets and to observe wildlife. Another popular spot for wildlife watching is the Alligator Alley Boardwalk just off North Main Street. This trail continues under I-10 and often provides a glimpse of an alligator or two!
It's time to get moving and get outside with a walk or ride through the Eastern Shore Trails. Experience trail life and take in all the area has to offer!