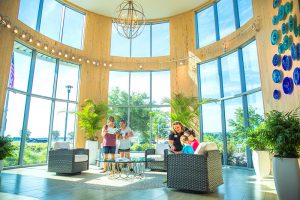 Each community along Alabama's Coastal Connection has its own story to tell. There's no better place to dive into the culture of these communities than at the area welcome centers.
Meet the Locals
There are sure to be locals at the community welcome centers, and they are eager to share their stories and their love of the area with you! They can tell you the ins and outs, the hidden gems, the local favorites, the must-try dishes and the most popular attractions. Learn about the best spot to have some gumbo in Bayou La Batre, or the ferry schedule to travel between Dauphin Island and Fort Morgan. Discover the history of the "home of the original Mardi Gras" in Mobile, and the magic of the "jubilee" in Fairhope. You'll leave with some great information and a deeper understanding of the area!
Get a Plan
Once you get the full grasp of what each area has to offer, it's easy to make an itinerary for your desired destinations. For example, once you see all the wonderful nature in Dauphin Island, you may want to explore the Audubon Bird Sanctuary or the Sea Lab. We provide a nature lover's itinerary to help you plan your outing. Our itinerary for history buffs highlights historical sites along the Eastern Shore, including the USS Alabama, Fort Morgan, and Starke's Landing, to name a few.
Get Some Swag
Welcome centers are often stocked with T-shirts, hats, books, and community-specific souvenirs. If you're just starting out on your journey, grab some items that will heighten the experience for you, whether it's sunblock and sunglasses for the beach areas or books on fishing and wildlife in Bayou La Batre. Welcome center swag is stylish, functional and fun!
Check out a full list of welcome centers to visit along Alabama's Coastal Connection Scenic Byway, and start exploring our wonderful coastal region.