Ahhh, spring! Flowers are blooming, people are outside, and festivals are in full swing along the Scenic Byway. Five festivals you need to make sure are on your list to check out this spring:
67th Annual Fairhope Arts and Crafts Festival
Approximately 230 exhibitors will line the streets of downtown Fairhope during March 15-17 for an epic event that attracts thousands of people from all over the world. Art is a huge part of what makes this small coastal community so unique and sought after. This festival is an Eastern Shore staple. Learn more here.
The German Sausage Festival
Get your taste buds ready for some serious flavor at this semi-annual event. Held in March and again in October, this day of food and fun attracts up to 20,000 visitors to Elberta, Alabama each year! The main draw for festival fans is Elberta's famous German sausage and sauerkraut, but there are also plenty of other delicious dishes on hand. Entertainment for the entire family includes carnival rides, arts and crafts, and even a Bier Garten! Learn more about what to expect here.
2019 Waterway Village Zydeco & Crawfish Festival & 5K Run
Every year, patrons enjoy free admission to this energetic event. The best zydeco bands in the South perform at this festival, while guests dance and enjoy juicy local crawfish. This event provides many activities for the kids, featuring arts, crafts, dancing and more! Mark April 20 on your calendar and start planning your trip to Gulf Shores. Learn more here.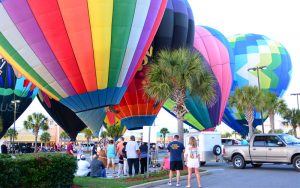 Hot Air Balloon Festival
Just north of Gulf Shores is a small town that hosts a BIG event. Dozens of hot air balloons fly high over Foley while vendors set up shop, dog shows entertain audiences, carnival rides bounce and spin, and carnival-style food is served. Guests even have the opportunity to take tethered hot air balloon rides! Save the dates: May 3 and 4! Learn more here.
Hangout Music Festival
Listen to world-famous music on the white-sand beaches, with the Gulf of Mexico as your backdrop. It's the wildly popular Hangout Music Festival! Set for May 17-19, 2019 in Gulf Shores, the lineup is epic, including artists like Tom Petty and the Heart Breakers, Foo Fighters, Red Hot Chili Peppers, Mumford and Sons, and more. See the full lineup and get more information here!