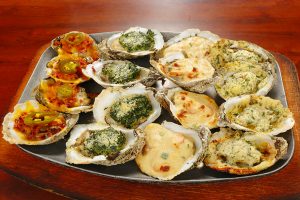 Legend has it that oysters should only be enjoyed in months that end in "r." But on the Gulf Coast, we know better. Despite this common misconception, oysters, when properly harvested, are perfectly fine to eat year-round. If you're venturing along Alabama's Coastal Connection in a month that ends in "r" – or any month at all – be sure to check out these seafood spots.
Near Bayou La Batre? Drop in at Lighthouse Restaurant, a local institution serving up oysters a number of ways. You can't go wrong with the fried oysters or the oyster po-boy, but if you're feeling brave, try the oyster stew.
JT's Sunset Grill on Dauphin Island is known for their fried oysters. Share them as an appetizer, dressed and stuffed inside French bread, or served on a platter. For best results, pair with fries, coleslaw and hushpuppies.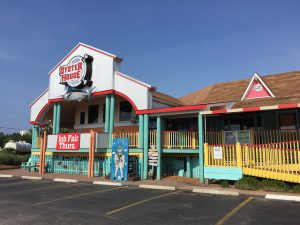 If you're headed to Gulf Shores, add the Original Oyster House to your list. As their name suggests, these folks know their oysters. Try their take on the fried oyster po-boy, slurp down a dozen raw, or try them baked with garlic butter, parmesan and other tantalizing toppings.
Foley's Fish River Grill is a local favorite that serves up oysters in their two most popular iterations: deep fried and raw. And if oysters aren't your thing, this casual eatery has a surprisingly huge and varied menu, so there's something for even the pickiest of eaters.
In Fairhope, the Original Old Bay Steamer is where you can get your oyster fix in every possible way. Whether you prefer your oysters raw, fried, baked or steamed, this joint has you covered.
All along Alabama's Coastal Connection, folks are feasting on oysters: battered and fried, raw and on the half shell, and thrown between buns. Where and when will you enjoy this coastal delicacy?