When venturing along Alabama's Coastal Connection, you'll find yourself immersed in the area's rich history. And there's no better way to understand Alabama's unique story than with stops at both Fort Morgan and Fort Gaines.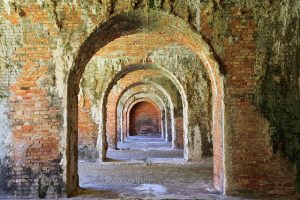 Located 23 miles west of Gulf Shores, Fort Morgan is an historic masonry star fort built to protect the mouth of Mobile Bay. Named after Revolutionary War hero Daniel Morgan, Fort Morgan was completed in 1834 on the former site of Fort Bowyer, which played an instrumental role in the final battles of the War of 1812. Following the War of 1812, the United States government sought to strengthen seacoast defenses, and the construction of Fort Morgan by the U.S. Army Corps of Engineers began in 1819. Using slave labor, local brick and mortar as well as granite, sandstone, ironwork and cement shipped in by water from New York, the fort was completed in 1834.
In 1861, the fort was seized by Alabama troops, turned over to the Confederate Army and used to provide protection for blockade runners entering Mobile Bay. In 1864, the Union Navy fought
their way past Fort Morgan and defeated the Confederates in what is considered to be one of the most intense attacks on a single fort recorded during the Civil War.
Between 1900 and 1923, Fort Morgan served as the largest permanent military base in the state, and by World War I, two thousand troops were stationed there to train on new artillery weapons they would be facing on the battlefields in France. In 1941, the Navy reoccupied Fort Morgan for a year to renew the fort's coast defense mission, but by 1944, the fort was retired for good.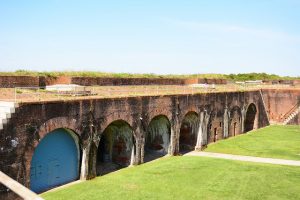 Now maintained by the Alabama Historical Commission, Fort Morgan serves as a history and nature lover's paradise, with historian guided tours (starting at 10 a.m. June through July), birding, fishing, public beaches and concessions. With a full calendar of special events and historical reenactments, it's no surprise Fort Morgan continues to be a favorite destination of locals and tourists alike. Family admission costs $18, and the grounds are accessible from 8 a.m. to 5 p.m. daily.
A quick ride west on the Mobile Bay Ferry from Fort Morgan will take you to Dauphin Island, the home of one of best preserved Civil War era masonry forts, Fort Gaines. Built in 1821 and named after U.S. Army Officer Edmund Pendleton Gaines, Fort Gaines was constructed to protect the entrance of Mobile Bay along with Fort Morgan. Dauphin Island became a part of the United States when Alabama did, and the U.S. government built Fort Gaines to protect its new territory. Finished in 1861, Fort Gaines, like Fort Morgan, played an important role in the famous Battle of Mobile Bay during the Civil War. It was here that Union Admiral David G. Farragut issued his famous command, "Damn the torpedoes! Full speed ahead!" In 1864, over a thousand Union troops sieged the fort, forcing a surrender soon after.
Now a tourist destination, visitors to Fort Gaines can check out the huge anchor from the U.S.S. Hartford, original cannons used in battle, the operational blacksmith shop and kitchen, and the underground tunnel system.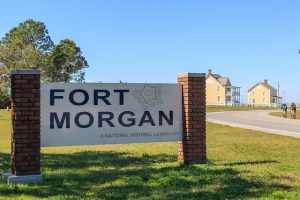 Enjoy tours led by guides in period uniform, cannon firing and blacksmithing demonstrations as well as camping, birding and beaching on Dauphin Island.Admission costs $8 for adults and $4 for kids.As the saying goes, to understand the present, you have to know the past, and exploring Alabama's history along the coastal byway is a good place to start.