Anyone who's ever ventured along Alabama's Coastal Connection has surely noted the unique biodiversity of the Gulf Coast. Our beautiful landscapes and seascapes are teeming with life, and there are a number of ways for travelers along the Alabama Coastal Connection to get up close and personal with our local wildlife.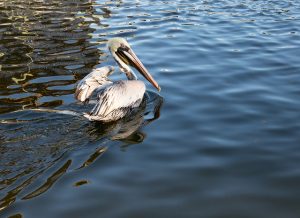 Birding is a fun way to connect with nature, and birding in Alabama begins along the Alabama Coastal Birding Trail. The ACBT includes Alabama birders' most frequented birding spots, featuring six loops in Baldwin and Mobile counties totaling over 200 miles. Originally developed in the late 1990s, the ACBT offers enthusiasts an opportunity to spot an array of bird species representative of Alabama's Gulf Coast.
The Gulf Shores-Orange Beach Loop begins at the bridge over Perdido Pass. Here, keep your eyes peeled for the Common Loon, Laughing Gull, Great Blue Heron, Snowy Plover and Royal Tern.
The Fort Morgan Loop begins at the intersection of AL 59 and AL 180 in Gulf Shores. Because the Fort Morgan Peninsula is within the Bon Secour National Wildlife Refuge, many species of birds are abundant here, but be on the lookout for the Sandwich Tern, Black-throated Green Warblers, Pine Warblers and Great Horned Owl.
Continue to Foley to hit the South Baldwin County Loop, an inland route with an interesting mix of habitats and a diversity of species. Here, you'll spot the Northern Flicker, Blue Jay, Brown-headed Nuthatch, Loggerhead Shrike and beautiful Lesser Scaup.
The Eastern Shore, Mobile Bay Causeway and Blakeley Island Loop covers the northern portion of the eastern shore from Fairhope to Daphne, crosses Mobile Bay and continues north toward Blakeley Island. On this loop, consider using a spotting scope to look for the Belted Kingfisher, Least Tern, Snowy Egret, Tricolored Heron, Northern Cardinal and Black-bellied Whistling Duck.
The Mobile-Tensaw River Delta Loop begins south of Stockton. Best explored by boat, birders head here for the abundance of songbirds. Be on the lookout for the Bachman's Sparrow, Prothonotary Warbler and Common Yellowthroat.
Last, the Dauphin Island-Bayou La Batre Loop starts at the water tower on Dauphin Island and is one of the most popular spots for Gulf Coast birding. Catch sight of the Scarlet Tanager, Painted Redstart, Wilson's Plover, Clapper Rail, Indigo Bunting and Northern Mockingbird here.
No matter which of these Alabama Coastal Birding Trail loops you hit, be sure to bring your binoculars, a camera and this handy birding checklist with you along Alabama's Coastal Connection this summer.