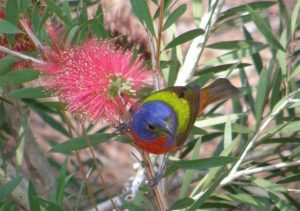 As a top North American location for bird viewing, Dauphin Island offers some of the best spots in the world to catch sight of winged beauties! The area features more than 135 acres of salt marshes, forests and dunes – as well as a lake and a beach – which are home to 420 bird species. The unique ecosystems come together to make up the Audubon Bird Sanctuary Trail System.
The trail system totals 4.3 miles. Each trail offers unique habitats and ecosystems that nurture specific types of fowl.
Lake Loop Trail is mainly a forest where oaks, magnolias and other vegetation provide homes to alligators, turtles and wading birds. You may even spot a bald eagle!
Campground Trail joins Lake Loop Trail and winds along the shoreline of the Gulf of Mexico to Fort Gaines. Here, shorebirds and seabirds such as the piping plover, American avocet, spotted sandpiper, and whimbrel can be found!
Joining Campground Trail is Dune Edge Trail. Winding behind the primary dune, it consists of flowering weeds, grasses and woody plants. As you near Galliard Lake, watch for water fowl such as mallard ducks, blue-winged teals and gadwall.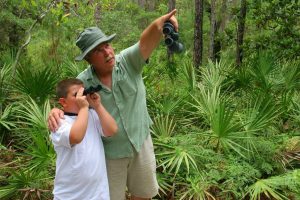 Dry swamp conditions of Swamp Overlook Trail create great viewing opportunities for wintery woodland species such as the red-headed woodpecker, yellow-bellied woodpecker and the downy woodpecker.
Upper Woodlands Trail weaves through a forest rich with pines, wax myrtle and yaupon. Expect to spot woodland birds in this habitat.
Visit the Dauphin Island website for more information on the Audubon Bird Sanctuary.