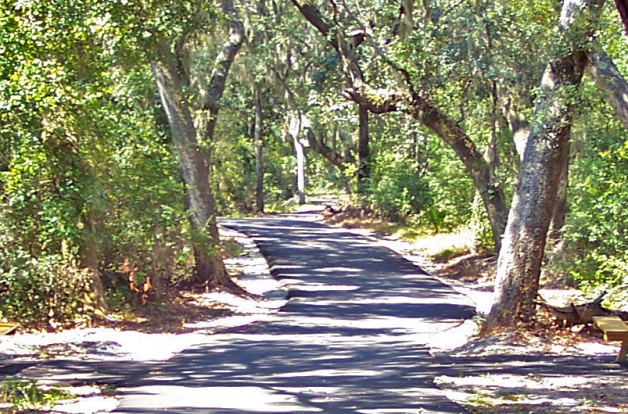 Fall and winter along the Gulf Coast can be a magical time. With vivid blue skies contrasting against white sands and green trees, there are few landscapes as beautiful as the coast of Alabama. Pair that with comfortable temperatures and sunny days, and life doesn't get much better.
Take advantage of the natural beauty by spending your time outdoors. Explore the trails at Gulf State Park, where you'll find winding trails through the evergreen forest, plus boardwalks over Lake Shelby that lead straight to the sugar-white sands on the shores of the Gulf of Mexico. "Picture perfect" is an understatement here.
Let us take you through a scenic tour of the Backcountry Trail system at Gulf State Park:
Seven trails and six ecosystems await, covering more than 15 miles. Start with a picnic in the screened pavilion on Catman Trail. Once you've eaten and packed up, cruise down a little farther and take in the butterfly garden before heading to Rosemary Dunes to take in marshes, tall pine trees, wildflowers and cattails – all while possibly catching a sighting of an alligator.
Twin Bridges, a one-mile trail, is the link from the east trails to the west trail of the Gulf Oak Ridge. Twin Bridges provides a relaxing path with many benches to help you take in the nature and wildlife. On the western side of Gulf State Park, Gulf Oak Ridge features the highest bluff on the island: 34 feet above sea level. This trail is surrounded by beautiful, historic mossy oaks.
The next stop of your adventure is Rattlesnake Ridge. Featuring palmettos, scrub oaks and pines along the sandy shores, it's home to tortoises, armadillos and much more wildlife.
Cotton Bayou is a 1.1-mile trail in Orange Beach that intersects with Catman Trail. From the Cotton Bayou Trail, you can reach Boulder Park and test out your climbing skills, choose a more serene path and relax in the butterfly garden, or discover the wetlands from Rosemary Dunes.
Bridging Gulf Shores and Orange Beach is Coyote Crossing. This 2.3-mile trail starts at Gulf Oak Ridge and heads west through Gulf Shores to Hwy. 59.
The seven trails at Gulf State Park are exceptional. Discover the magic of the six different eco systems within the trail system. Take a look at the Gulf State Park map and start planning your explorations today.