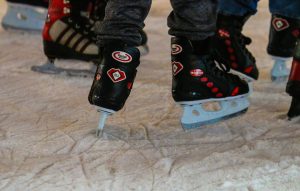 Get bundled up in a scarf and gloves and hit the ice along Alabama's Coastal Connection. Ice skating on the coast? Yep! We've got it. Even if it's still shorts-wearing weather outside, The Wharf in Orange Beach offers indoor ice skating through the middle of January.
While we don't really get much of a winter here, this is an opportunity to enjoy just a taste of it. Bring your own skates or rent a pair to glide, spin or even fall (oops!) into the season.
Skating is fun for the whole family and also great for a date night. Open through Jan. 13, the ice rinks hours are Monday through Friday from 4-10 p.m. and Saturday and Sunday from 10-10. The rink will close at 4 p.m. on Christmas Eve, and will be closed on Christmas Day. On New Year's Eve, enjoy skating from 10 a.m. until midnight.
Costs is $10 for skating, including skate rental, or $13 for skating plus a Ferris wheel ride.
The Wharf transforms into a winter wonderland for Christmas, so plan extra time to enjoy horse and carriage rides, photos with Santa, and more.
During this holiday season, take a spin around an ice rink on the Alabama coast, then make a day of it at The Wharf in Orange Beach.