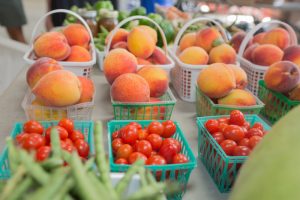 All along the Alabama Coastal Connection from Bayou La Batre to Daphne, spring is in full bloom. We're lucky to have a long growing season in the Gulf South, granting us access to many varieties of fresh, delicious produce year-round.
No matter where you stop along the beach byway, you're sure to find a farmer's market or two. Our local farmers take pride in providing the highest quality product possible. Keep an eye out for some of our springtime favorites.
Leafy greens and lettuce make for the basis of a perfect light lunch, and bitter greens like collards, kale, mustard and turnip are a staple in Southern cooking and pack a nutritional punch. Asparagus and mushrooms are in peak season and make for fun pizza toppings, while sweet strawberries and rhubarb pair perfectly in pie. Looking to add more green vegetables to your diet? Asparagus, cabbage, spinach and pears are plentiful this time of year.
Beyond fruits and vegetables, expect to find fresh baked breads and desserts, local honey, plants and flowers, handmade crafts and more at our local farmer's markets.
Wherever you stop along the byway, make sure to pack your totes and reusable grocery bags for all the goodies Mother Nature has to offer this time of year at Alabama's farmer's markets.