With a temperate climate and proximity to so many bodies of water, it's no surprise Alabama produces a rich array of farmers market fare. And with so much fresh food to celebrate this time of year, it's easy to see why Alabama's coastal farmers markets abound.
Southern favorites like strawberries, blackberries, tomatoes, watermelon and collard greens are coming into season, so be sure to stop at the following coastal Alabama farmers markets to get your fresh produce fix.
Market in the Park in Mobile – Market in the Park is Mobile County's only certified Alabama Farmers Market. Open Saturdays through July 29, this weekly community event features seasonal produce from area farms, as well as fresh-cut flowers, prepared treats and more from local vendors.
Coastal Alabama Farmers and Fishermens Market – On Tuesdays and Saturdays from 9 a.m. to 2 p.m., enjoy the bounty of the Coastal Alabama Farmers and Fishermens Market in Foley. Here, you'll find everything you need to stock your fridge and pantry, from farm-fresh eggs to tortillas to microgreens.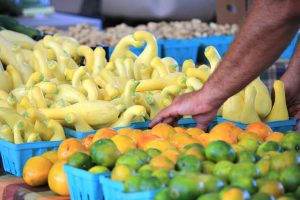 Daphne Farmer's Market – This farmers market, located in Daphne, features locally grown produce, baked goods and fresh-from-the-gulf seafood. Don't miss the caramel corn, honey, and locally raised meat, as well as artworks by area artists.
Fairhope Outdoors Farmer's Market – This year, the City of Fairhope is combining their spring and fall farmer's market into one ongoing event from May to November. Each Thursday, between 3 and 6 p.m., expect local, seasonal produce, honey, fresh-cut flowers and more.
Exploring farmers markets is just one of many ways to appreciate Alabama's Coastal Connection.