If there's a best time to visit Alabama's Coastal Connection, it's got to be during Mardi Gras. For the uninitiated, Mardi Gras refers to a 47-day period leading up to Easter. The days and nights are filled with feasting and festing before Ash Wednesday, when Catholics traditionally began fasting to mark the start of the Lenten season.
All along the Alabama coastline, this period is marked by parades and celebrations from Bayou La Batre to Orange Beach and everywhere between. Keep reading – we'll help you make the most of the season by sharing a guide to letting the good times roll all along the beach byway!
Head to Daphne for Carnival fun on February 2 at 6:45 p.m. to catch Apollo's Mystic Ladies in action. On February 10, the Shadow Barons will be rolling there, beginning at 6:45 p.m. On February 11, starting at 2:30 p.m., the Loyal Order of the Fire Truck will follow suit.
Catch the Knights of Ecor Rouge parading in Fairhope on February 3 at 6:45 p.m. Return February 9, when the Maids of Jubilee will be creating more Mardi Gras spirit at 6:45 p.m. Then on February 12, also known as Lundi Gras, don't miss the Order of Mystic Magnolias parade beginning at 6:45 p.m.
In nearby Foley, the city's Mardi Gras parade begins rolling at 11 a.m. on February 10.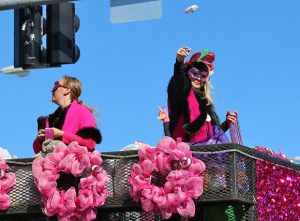 As usual, there are plenty of parades to choose from in Gulf Shores and Orange Beach. Beginning at 6:30 p.m. on February 9, the Mystical Order of Mirams will roll through Orange Beach, followed by the Mystics of Pleasure on February 10 at 6 p.m. On February 13, which is Fat Tuesday (aka Mardi Gras), make it a full day of celebrating this coastal tradition by heading to a local eatery to refuel between the 10 a.m. Gulf Shores parade and the 2 p.m. Orange Beach parade.
Thinking of taking some time to experience everything Alabama's Coastal Connection has to offer? Don't delay! Get ready to bundle up, throw back a few cold ones, and catch plenty of beads along the beach byway throughout the Mardi Gras season.