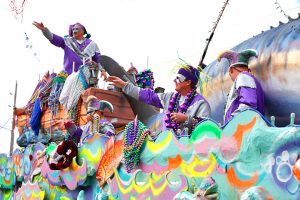 More than likely, you've heard of the weeks-long party that is Mardi Gras. It's also likely you associate the partying and parading of Mardi Gras with New Orleans. Although New Orleans has a long and storied history with Mardi Gras, you may be surprised to learn that Alabama is, in fact, the birthplace of the Mardi Gras celebration in the United States!
In 1703, 15 years before New Orleans was founded, Frenchman Nicholas Langlois brought this French Catholic tradition with him to Mobile, the capital of French Louisiana at the time. Eventually, due to fears of flooding from hurricanes, the capital was moved to New Orleans in 1723, but the Mardi Gras tradition lived on in Mobile.
What was once a festive occasion marking the beginning of the somber Lenten season has since transformed to a multi-week celebration for everyone, Catholic or otherwise. Mardi Gras literally translates to "Fat Tuesday." The idea was to party hard and fatten up in preparation for fasting that traditionally occurs during Lent.
Historically, "mystic societies" have been the tradition in Mobile. These exclusive societies, sometimes referred to as krewes, are often invite-only and host formal masked balls marking the start of the Mardi Gras season. These same societies put on parades for the general public, riding huge colorful floats down city streets and tossing throws such as plastic beads of green, yellow and purple; doubloons; branded cups; candy and small toys.
To learn more about the Mardi Gras roots in Alabama, venture off the Alabama Coastal Connection a bit and head to the Mobile Carnival Museum.
Thinking of visiting coastal Alabama? Mardi Gras season is a great opportunity to experience the rich culture and traditions along Alabama's Coastal Connection.