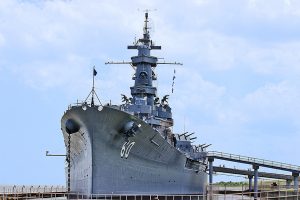 Anyone interested in military history knows Alabama is teeming with rich history. Civil War fans and WWII junkies alike can test their knowledge of historic battles, tanks and artillery at the USS ALABAMA Battleship Memorial Park. Just north of the Alabama Coastal Connection, this stop in Mobile is a great way to spend the day learning all about this important WWII battleship and those who served on it.
First, take a tour of the USS ALABAMA, the battleship where Americans served and lived during the course of the war. This WWII battleship celebrates its 75th birthday this year. Built in 1940, the USS ALABAMA began her career in the North Atlantic in 1943 and eventually served in the South Pacific. Home to 2,500 Americans at the peak of the war, she was known for leading the American fleet into Tokyo Bay on September 5, 1945. In her career, she earned 9 battle stars and the nicknames "Mighty A" and the "Heroine of the Pacific." In 1962, the federal government announced plans to scrap the USS ALABAMA and other WWII battleships, but the state of Alabama saved the ship and envisioned a memorial park open to the public.
Next to the USS ALABAMA lies the USS DRUM, the oldest American submarine on display. Take a tour to learn all about her missions during the war and her 72-member crew (including their furry friend, Stateside).
Head to the Aircraft Pavilion next to catch a glimpse of historic aircraft, historic vehicles and war artifacts. The A-12 Black Bird spy plane is a must-see. Also, be sure to check out the new 100th anniversary WWI exhibit while you're there.
Tanks, boats, planes and artillery from the Army, Navy, Air Force, Marines and Coast Guard are scattered throughout the park representing WWII, Korea and the Vietnam War. Take a stroll and get up close and personal with these treasures.
When you have worked up an appetite, grab a bite to eat at The Galley, the park's snack bar located in the Ship's Store. With cheeseburgers, pizza and a number of daily specials and desserts, there's something for everyone. Or if packing a lunch is more your style, enjoy a picnic at one of the many picnic tables within the park. You may want to pack a fishing rod and some binoculars. The park features a fishing pier and a nature boardwalk where you can catch sight of local birds along the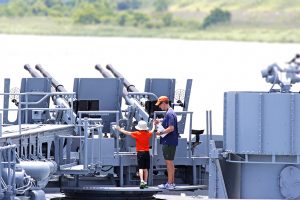 Alabama Coastal Birding Trail.
During the summer, the park is open every day from 8:00 a.m. to 6:00 p.m. General admission tickets cost $15 for adults and $6 for kids, with special rates for military members, senior citizens and kids five and under. Parking costs $2.
The USS ALABAMA Battleship Memorial Park is a great way to spend the day immersed in history and nature just off the beaten path of the Alabama Coastal Connection.