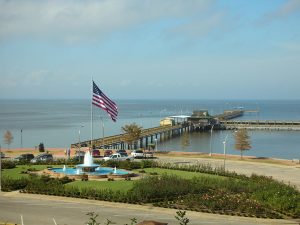 Fairhope is a hot spot on the Alabama Coastal Connection. The quaint city is known for its beautiful pier and parks, along with its friendly Southern charm that's hard to surpass.
Downtown Fairhope showcases plenty of specialty shops and stores to explore. With storefronts boasting one-of-a-kind retail items to neat eats, walking the sidewalks is enjoyable, even if you're just window shopping.
Sit down with a delicious hot coffee and a good book at Page and Palette, or stop by for one of many events the shop hosts. Then head out to the Windmill Market where you can admire the many locally handmade art items and gifts, or grab a bite at one of the several restaurants inside.
If you're looking to be a little more active, Oak Hollow Farm is the place to be. Horseback riding, skeet shooting and fishing are a few of the outdoor activities the farm offers. This historic property sits on more than 300 acres and is magnificent to tour. End the day at Fairhope Brewing Company to sip on unique beers or fresh wine.
The city really comes alive for the Fairhope Arts and Crafts Festival, so mark you calendar for March 17, 18 and 19, 2017 and spend some extra time getting acquainted with this great town.