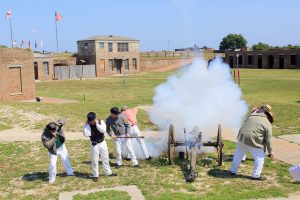 There's no time like the present to learn about the past, and you can do just that when you venture along Alabama's Coastal Connection. Starting at historic Fort Gaines and ending at Spanish Fort, we planned this day trip with history buffs in mind. Spanning one day and 86 miles, this fun and education itinerary provides a great bang for your buck.
Your first stop is Fort Gaines. This Civil War era masonry fort on Dauphin Island was built in 1821 and played an important role in the famous Battle of Mobile Bay during the Civil War. Now open to tourists, visitors to the fort can enjoy tours led by guides in period uniform as well as cannon firing and blacksmithing demonstrations. Admission is $8 for adults and $4 for kids.
Next, hop on board the Mobile Bay Ferry and enjoy a relaxing ride on the waters of Mobile Bay, where Union and Confederate ships battled for control of this significant passage. The ferry will take you to your next stop, Fort Morgan.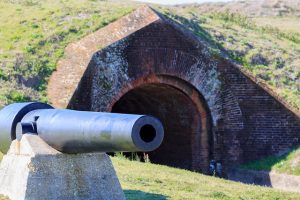 Fort Morgan is an historic masonry star fort built to protect the mouth of Mobile Bay in 1819. At the start of the Civil War, the fort was seized by Alabama troops for the Confederacy and provided protection for blockade runners entering Mobile Bay. Today Fort Morgan is maintained by the Alabama Historical Commission, and with a calendar full of special events and historical reenactments, the old fort continues to inspire wonder and awe in visitors. Family admission costs less than $20.
Drive an hour and a half north and hit the mouth of Fish River. Today, the river boasts an environmental education center and a public boat launch, but Fish River's claim to fame is the role it played in the Civil War. Troops gathered here after journeying from Fort Gaines on army transports and naval gunboats and sailed up Fish River on their way to Spanish Fort.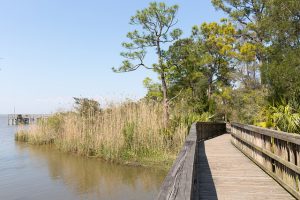 Next, head west to visit May Day Park in Daphne, also known as Starke's Landing. This site served as a U.S. Army supply depot during the Civil War. From here, a flotilla crossed the bay in the move to occupy the City of Mobile.
End your day at Spanish Fort. History lovers can visit the Eastern Shore Welcome Center to learn about the part Fort McDermott and the 8th Iowa Line played in the siege and battle at Spanish Fort.
History abounds on Alabama's Coastal Connection, and you're sure to encounter stories of the past and present along the coastal byway.