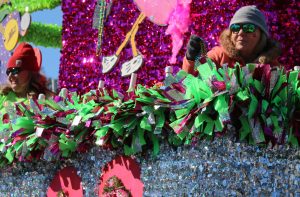 What city first started the Mardi Gras tradition in the United States? Ask someone from Louisiana, Alabama or Mississippi, and you may get three very different answers.
In Alabama, folks take great pride in naming Mobile as home of the original Mardi Gras celebration in this country. Though many people associate Mardi Gras with New Orleans, an official celebration began in Mobile in 1703, 15 years before the first one in Louisiana. Mobile held the first masked ball in 1704, and the traditional parade got its start in 1711.
Mardi Gras, which is French for Fat Tuesday, marks the last day of the Carnival celebration before 40 days of Lent. It dates back thousands of years to pagan spring rituals, but the Roman Catholic church adapted it as a Christian celebration. Carnival lasts more than two weeks and involves secret societies, balls and those before-mentioned parades. Here's a sample of a few of the 2019 parades:
Feb. 2: The Krewe de la Dauphine on Dauphin Island
Feb. 9: The Dauphin Island People's Parade and Krewe of Riviere du Chien kids parade
Feb. 15: Conde Cavaliers in Mobile
Feb. 16: Bayport Parading Society, Pharaohs, Conde Explorers in Mobile
Feb. 21: Order of Polka Dots in Mobile
Feb. 22: Order of Inca in Mobile; Apollo's Mystic Ladies in Daphne
Feb. 23: Mobile Mystics, Maids of Mirth in Mobile; Knights of Ecor Rouge in Fairhope
Feb. 24: Neptune's Daughters in Mobile
Feb. 25: Order of Venus in Mobile
Feb. 26: Order of LaShe's in Mobile
Feb. 28: Mystic Stripers in Mobile
March 1: Mystic Order of Mirams in Orange Beach; Maids of Jubilee in Fairhope; Crewe of Columbus in Mobile
March 2: Foley Parade; Floral Parade and Mystics of Time in Mobile; Mystics of Pleasure in Orange Beach
March 3: Joe Cain in Mobile; Krewe de Cirque in Foley (OWA)
March 4: King Felix and Floral Parade, and Infant Mystics in Mobile; Order of Mystic Magnolias in Fairhope
March 5 (Mardi Gras Day): Gulf Shores and Orange Beach parades; Order of Athena, Comic Cowboys, Knights of Revelry, MAMGA Mammoth Parade and Order of Myths
Now that you've got the dates, start scheduling your Mardi Gras vacation to take in several of these bead-throwin', jazz-playin' parades.