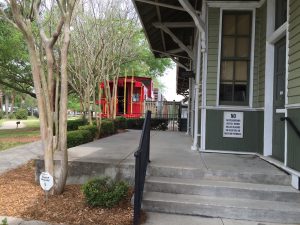 Winters are mild along Alabama's Coastal Connection, but if you do experience some cooler temperatures, no worries. A wealth of indoor attractions can keep your family entertained. Check out one or all of the following:
Baldwin County Heritage Museum
25521 Hwy. 98, Elberta, 251-986-8375
If you like history, farming, farm equipment, or a combination of all three, the Baldwin County Heritage Museum is a great stop along the byway. The facility houses an array of exhibits from the early days of Baldwin County, including tractors, a working blacksmith shop, a miniature potato shed and even the old Miflin School House. Call for hours and admission.
Fairhope Museum of History
24 N. Section Ave., Fairhope, 251-929-1471
Break out of the old city jail, try your hand at breaking into a historic city safe, learn about the Single Tax Colony, the area's Civil War and WWII history and the jubilee phenomenon, all at the Fairhope Museum of History. There's even a vintage fire truck that's great for photo opps. The Fairhope Museum, which offers free admission, is open 9-5 Tuesday through Saturday.
City of Foley Model Train Exhibit
125 E. Laurel Ave., Foley, 251-943-1818
If trains are your thing, the Foley Railroad Museum is a must-see. The museum, housed in the 1909 Louisville and Nashville railroad station, contains reminders of Foley's railway days, including a caboose and engine kids love to explore. Hours are 10-3 Monday through Saturday. A model train exhibit runs Tuesday, Thursday and Saturday from 10-2. Free admission.
Gulf Shores Museum
244 W. 19th Ave., Gulf Shores, 251-968-1473
Check out an interactive exhibit depicting flying through the eye of a storm with hurricane hunters, along with other marine and fishing artifacts from the early days of this fishing village. Admission is free. Hours are 10-noon and 1-5 Monday through Friday; 10-2 on Saturdays.
Holmes Medical Museum
111 W. Laurel Ave., Foley, 251-970-1818
The Holmes Medical Museum in downtown Foley, located in Baldwin County's first hospital, displays original medical artifacts including surgical instruments, operating room machinery and a human skeleton. Open Monday through Saturday 10-2.
Orange Beach Indian & Sea Museum
25850 John M. Snook Ave., Orange Beach, 251-981-8545
The Orange Beach Indian & Sea Museum contains historical photos, memorabilia and artifacts about the area's Indian culture, regional fishing and marine history. The museum is open 9-4 Tuesday through Thursday.