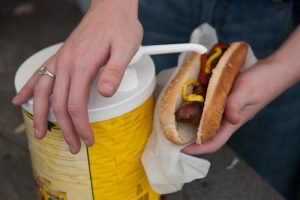 Autumn means football, pumpkins and plenty of festival fun along the Alabama Coastal Connection.
Kick it off at the 47th Annual National Shrimp Festival the weekend of Oct. 11-14, which attracts more than 300,000 people. The big draw is the shrimp, of course, with some of the area's best chefs and restaurants creating award-winning recipes. But there's plenty more to this festival. Art lovers enjoy browsing the approximately 200 booths of fine art and arts and crafts, and the Children's Activity Village keeps kids busy. Musical acts take the stage daily, performing blues, Motown, rock, jazz, zydeco and country.
A 40-year tradition, the Original German Sausage Festival in Elberta takes place on Oct. 27. Enjoy Elberta's famous German sausage and sauerkraut, and 200+ arts and crafts booths. A midway offers carnival rides and the Bier Garten features a large selection of imported and domestic beers. Other scrumptious offerings include German-style filled cabbage, potato salad, goulash, red beans and rice, hamburgers, hot dogs, BBQ sandwiches, ice cream, popcorn, peanuts and homemade baked goods. The grounds are filled with polka, country and German music. The twice-a-year fest is a fundraiser for the Elberta Volunteer Fire Department.
Take a bite out of the coast with the World Food Championships at The Wharf in Orange Beach on Nov. 7-11, when more than 1,500 chefs and home cooks will battle it out. Join the action at one of the spirited cocktail gatherings or compete in the family-friendly, foodie-driven World Food Games. The World Food Championships take place Nov. 8-11, 10 a.m. to 6 p.m.
Are you a film lover? The Fairhope Film Festival – showing world-class, award-winning films at several venues during Nov. 8-11 – is your dream festival. The focus is on the past year's national and international film festival competition finalists – the "best of the best" in cinema arts. Directors, actors and screenwriters will participate in the screenings both in person and via live electronic transmission.
These special events mean there's no excuse this fall. It's definitely time for a road trip to the Alabama coast!