With so much natural beauty surrounding Alabama's Coastal Connection, you'd be disappointed if you didn't bring a camera! For professional and amateur nature photographers alike, the beach byway presents the perfect opportunity to capture our incredible local wildlife at work and play. Below are some of our tips for making magical photos (and memories) here.
1) Prepare to wait. Patience is key in photographing wildlife! Capturing the perfect image may take a few tries, but keep at it. The finished product will be worth the wait.
2) Do your research. Where are you headed? What kinds of creatures are you hoping to encounter? Does the park allow visitors at the time you're planning on shooting? What will the weather be like? Asking the right questions will help you plan your day and determine what sort of gear or lenses to bring along.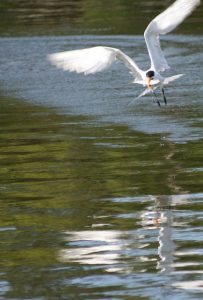 3) Comfort is key. Make sure you're wearing comfortable walking shoes, and try not to bring everything but the kitchen sink along with you. Packing as light as possible will give you the mobility and endurance you'll need to get that great shot.
4) Work with the light. For failsafe nature photos, take the lighting into consideration. It's important to know what time the sun is rising and setting to utilize the gorgeous golden light around those times.
5) Be respectful. Wherever you choose to shoot, follow any posted rules, stay on the footpath and never, under any circumstances, feed or otherwise interact or interfere with the wildlife you encounter. You're there as an observer, not an art director!
Whether you're just starting out or a seasoned pro, following these tips will ensure you come away with some gorgeous shots and memories from along Alabama's Coastal Connection. Be sure to use #ACCbyway on social when sharing your photos!