There's so much to see, so much to do! Homeschoolers who visit Alabama's Coastal Connection have nearly limitless points of interest that will engage your students and provide ideas for teaching everything from science to history to art.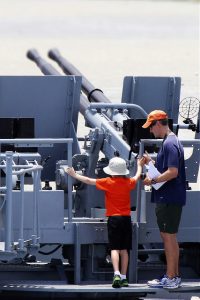 Try the Connecting with Nature itinerary to put science ideas under the magnifying glass for your children. Your first stop is the Dauphin Island Bird Sanctuaries, part of the Alabama Coastal Birding Trail. The handicap-accessible boardwalk takes you from the parking lot to Gaillard Lake, a preserved maritime forest, or through the tupelo swamp. Picnic tables give you the opportunity to add a bit of fun to the end of your field trip.
Make sure your curriculum includes some time at the Dauphin Island Sea Lab Estuarium. It has 11 programs available for school field trips and more programs available during the summer to continue the learning. The Just Touch Lab gives students the opportunity to hold and examine a variety of specimens. The Beach Walk with Maritime Forest includes a lecture, then a two- to three-mile field excursion along the Gulf of Mexico and through a maritime forest.
The Bon Secour National Wildlife Refuge encompasses 7,000 acres that serve as a safe harbor for endangered animals such as the Alabama beach mouse, the green loggerhead and Kemp's ridley sea turtles, and many migratory birds. Families can check out a Discovery Pack that provides binoculars, a magnifying glass, field guides, a journal and a bird identifier to use while exploring the four trails. There is no admission fee to the Bon Secour National Wildlife Refuge, and the trails are open during the daylight hours.
Also in Baldwin County is the Weeks Bay National Estuarine Research Reserve, featuring an interpretive center with educational materials. Go out and experience nature firsthand with a stroll over the boardwalks. Weeks Bay features a bog with rare plants only seen there.
Take a page from our Connecting with the Past itinerary to bring history to life for your students. Stops at Fort Gaines and Fort Morgan will give your students the opportunity to walk through these historic areas and hear the famous histories they share. Time your visit with a demonstration such as Fall Garrison Living History Day at Fort Morgan on Oct. 8, and give your children a live glimpse of times past.
Bring more modern history to life with a visit to the battleship USS Alabama, the submarine USS Drum and a number of military aircraft at USS Alabama Battleship Memorial Park. Your students will love the opportunity to touch and climb and walk through the ship and submarine that made history during World War II.
Science and history connect at the GulfQuest National Maritime Museum of the Gulf of Mexico in Mobile. Interactive exhibits cover topics such as trade routes, marine archeology, shipwrecks, gulf marine life, weather, hurricanes, coastal environments, maritime commerce, shipbuilding and ship navigation. Classroom programs and educational resources are available, making these lesson plans easy to prepare.
Museums along Alabama's Coastal Connection encompass everything from art to history to science and even medicine. Check out our attractions page and keep the learning going year-round with regular field trips outside of your homeschool classroom.