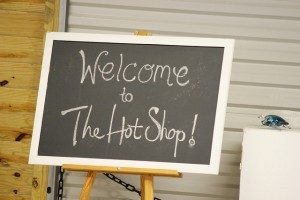 Get creative with some hot ideas for putting some punch in your homeschooler's lessons. Whether you're looking for a hands-on demonstration or wish to explore Alabama Gulf Coast history and culture, you'll find a variety of options ready for your lesson plans.
The Hot Shop at the Coastal Arts Center in Orange Beach brings the art of glass making to the Alabama Gulf Coast. Learn the science and physics of heating materials to form useful products and fun art, while making memories of a day of learning. Hot Glass demonstrations and make-your-own fused/blown glass lessons are available in The Hot Shop. Pottery demonstrations and make-your-own clay art are featured in The Clay Studio. There's a classroom studio for adult and children's art classes. The Hot Shop and Clay Studio are open Tuesday through Friday from 9 a.m. to 4 p.m. and Saturdays from 10 a.m. to 2 p.m.
Not to be missed is the fun, sometimes funky and always fantastic Eastern Shore Art Center in Fairhope.  Exhibits, classes and workshops are just part of what's offered here. Hours are 10 a.m. to 4 p.m. Tuesday to Friday and 10 a.m. to 2 p.m. Saturday.
Discover the beauty of art in paintings and sculpture at the Mobile Museum of Art, the largest art museum along the Gulf Coast from New Orleans to Tampa. It's open from 10 a.m. to 5 p.m. Tuesday to Sunday and 10 a.m. to 9 p.m. on Thursday.
More Alabama Gulf Coast Museums
Explore some of our earliest ancestors' way of life and art at the Orange Beach Indian & Sea Life Museum. Open Tuesday and Thursday from 9 a.m. to 4 p.m. The museum contains local history, Indian culture, regional fishing and marine history demonstrated through photos, memorabilia and artifacts.
Experience the interesting history of Gulf Shores at the Gulf Shores Museum through exhibits, films and other events. Admission to the Gulf Shores Museum is free.
Journey into the Alabama Gulf Coast's rail history at the City of Foley Museum Archives and Train Exhibit. This "O" gauge train layout represents the time from the 1930s to the 1950s when the rail lines were in the transition of being run by steam to running on diesel fuel. Admission is free. The model trains are in operation on Tuesday, Thursday, and Saturday from 10 a.m. to 2 p.m.
Nearby is the Holmes Medical Museum that depicts how medicine was practiced in the early years. Housed in the first hospital in South Baldwin County, it is open from 10 a.m. to 2 p.m. Monday to Friday.
For a complete listing of museums along the Alabama Gulf Coast, browse our website.