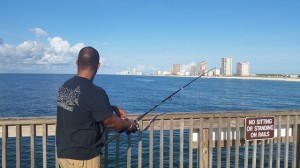 Bring your boat and bring your pole or rent it all when you get here. There's still time to reel in the big one in 2014. Whether you're pier fishing, charter fishing, surf fishing or kayak fishing, the denizens of the deep are biting.
Gulf Shores and Orange Beach are home to some of the best fishing spots around. With more than 100 charter boat captains to guide you, 2,488 feet of pier to fish and miles of white sandy beach, it's a picker's paradise for those who like to hook'em and cook'em.
Find out what fish are biting and where to find them by reading the What's Biting reports. Tips on which bait to use and the places to find good fishing abound. One of the best tips in a recent blog? Don't try to use heavy gear while fishing at the Gulf State Park Pier, instead use tackle suitable for bass fishing.
The Gulf State Park Pier is a favorite for anglers. The spacious pier, rebuilt in 2009 following Hurricane Ivan, is Alabama's only public pier and the second largest on the Gulf of Mexico. Rates for fishing on the Gulf State Pier for adults and children 12 and over are a reasonable $8 per day. The pier includes an indoor seating area for concessions, comfort stations and wheelchair-accessible rail fishing.
Want to go deep-sea fishing? Call or visit a Gulf Shores or Orange Beach marina to book your trip. Many boats can accommodate walk-ons. You can choose to go inshore, near-shore or deep-sea fishing to cast your line. Some marinas are more than just a place to park a boat; many have upscale restaurants, entertainment and shopping. Boat slips, boat rentals, fishing tackle rentals and boat launches are available.
Would you rather keep your feet planted on the land? There's always surf fishing. With 32 miles of white-sand beaches and a lot of shoreline on the back bays and Little Lagoon, you're certain to find a fishing spot that suits you. There's kayak fishing and freshwater fishing on the Alabama Gulf Coast as well.
After you hook your catch, there are numerous restaurants that will cook it for you. Check out these restaurants that will put the fish from your reel to your plate in the same day.
Some Gulf Shores and Orange Beach condos offer fishing trip packages. Book your Orange Beach fishing trip when you book your getaway. Fishing and non-fishing rates are available for those who just want to enjoy the ride.