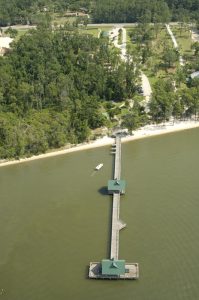 There are plenty of spots to stop for a good meal along Alabama's Coastal Connection. From casual cafes to fine dining restaurants, great food isn't hard to come by. But when temperatures drop along the beach byway, nothing beats sharing a meal with family and friends in the great outdoors. So pack your picnic basket, load your family up in the car and hit these spots for prime picnicking along Alabama's coast.
Open year-round, the Orange Beach Waterfront Park is open to the public and features covered pavilions and seating, picnic shelters with grills, restrooms, and plenty of parking. Enjoy fishing off the 400-foot pier, let the little ones loose on the playground, and take in the beautiful scenery of Wolf Bay.
Hit the Hugh S. Branyon Backcountry Trail and enjoy a lunch among the butterflies. The park's screened-in, cabin-style pavilion – located between the Butterfly Garden and Boulder Park on Catman Road – is perfect for picnicking. Situated near trails, restrooms and water stations, it makes for a great rest stop along the beach byway.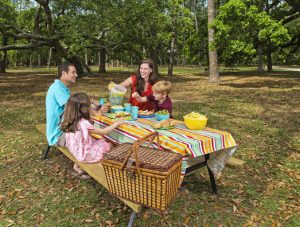 Dauphin Island makes for another worthwhile stop along the byway. If you're feeling beachy, venture out to the Dauphin Island Beach and Pier, an 850-foot structure with benches, picnic tables, concessions and, of course, access to the beach. At East End Park, visitors can fish along the pier, take in the views of Mobile Bay and enjoy a bite to eat at nearby picnic tables. A little farther out, Bayou Heron Park is popular with bird watchers and is outfitted with plenty of benches and picnic tables.
Whether you choose to bring your own basket or pick something up on the road, there are plenty of spots to stop for a bite to eat amid the natural beauty of Alabama's Coastal Connection. Do you have a favorite picnic spot along the coastal byway?