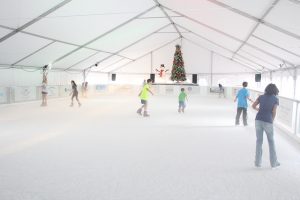 Bundle up and lace up your skates. We're heading into the holiday season along Alabama's Coastal Connection! From Grand Bay to Daphne to Orange Beach and everywhere between, the coastal byway is getting into the holiday spirit with festive events and happenings all season long.
Heading to Theodore? Don't miss out on Bellingrath's annual Magic Christmas in Lights starting November 24. You'll want to bring a camera to snap photos of the 1,100+ set pieces, three million lights and 15 scenes throughout the estate. What's better than hot chocolate, choral performances and poinsettias?
This year Dauphin Island will play host to a number of holiday events beginning in December. Mark your calendars for the 28th Annual Christmas Pageant at St. Edmund's Hall December 1, and stick around for the Christmas Parade starting at Cadillac Square on December 2. Head to the city's calendar of events for more December fun.
The Wharf at Orange Beach is busier than ever this season. Starting November 17 they're offering ice skating for $10 a pop as well as photos with Santa. And enjoy the free Christmas tree lighting event on November 28! Starting at 5:30 p.m., expect musical performances, cookie decorating, hot chocolate and a special reading of The Christmas Story with the mayor of Orange Beach. Keep your eyes peeled for a Santa sighting!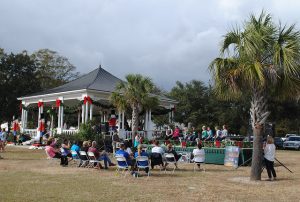 Venturing near Foley? Make a point to experience the 50th annual Trim-A-Tree event sponsored by the Foley Art Center now through December 21. Local artists and craftsmen will be selling their one-of-a-kind ornaments, decorations and fine artwork. Another family-friendly option? Christmas in the Park, December 1. Beginning at 6 p.m., head to Heritage Park for caroling, hot chocolate and snacks, the lighting of the Christmas tree, and a visit with Santa.
Journey toward Spanish Fort the first Saturday in December for the annual Spirit of Christmas Parade. Attendees can expect to see a festive production with dancers, baton twirlers, unicyclists and, of course, decorated floats and holiday-themed throws.
There's no better way to connect with each other along the beach byway this time of year than by participating in local holiday festivities. On and off the beaten path, there's always something to celebrate along Alabama's Coastal Connection.