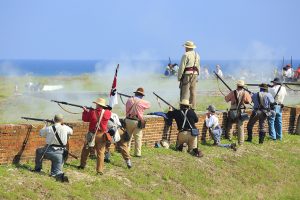 August is almost here, and we're still celebrating summer along the Alabama Coastal Connection. Beyond camping, hiking, birding and biking, we've got some events on the calendar that'll make you want to pack your bags and hit the byway.
Here are some ideas to squeeze the most out of your Gulf Coast summer.
On August 5, head to Fort Morgan for the Commemoration of the Battle of Mobile Bay and Siege of Fort Morgan. This living history event remembers the pivotal Civil War naval battle and siege between the United States Armed Forces and Confederate soldiers. Interpreters in uniform will bring the fort to life with parade ground period drills and artillery demonstrations at the water battery, and site historians will walk you through the events that transpired more than 150 years ago.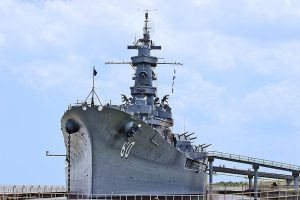 The Weeks Bay Foundation will host its 5th Annual Pelican Paddle Canoe and Kayak Race on August 5. This full day of fun includes a 3.5 mile family-oriented race for all ages and skill levels, a 7 mile option for more serious paddlers and a non-competitive guided Eco-tour of Weeks Bay. After the races, enjoy food from local food trucks and enter for a chance to win a kayak and other prizes. Pre-register here, or show up between 7:30 and 8:45 a.m. the day of the race to participate.
On August 14, don't forget to wish the "Heroine of the Pacific" a happy birthday! With free admission to the park all day and special to-be-announced events planned, the USS ALABAMA 75th Anniversary Commemoration is sure to be a fun, family-friendly time.
Do you love live music? On Augus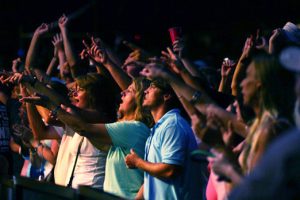 t 18, catch five-time Grammy nominee Matchbox Twenty in concert at The Wharf Amphitheater with Matt Nathanson. Tickets are still available for purchase starting at $18.
Relive Creek Indian War history August 26 and 27 at the 204th Anniversary of the Battle of Fort Mims. This annual commemoration and living history reenactment weekend takes place north of Stockton and includes early 19th century displays, crafts, Creek Indian games, cultural presentations, and period weapons and clothing.
Whether you're into communing with nature, enjoying live music or appreciating Alabama's rich history, there's always fun to be had along Alabama's Coastal Connection.