Alabama's Coastal Connection
Beautiful beaches, authentic downtowns, wildlife preserves, historic sites and the freshest seafood you'll ever put in your mouth are all yours to enjoy on Alabama's Gulf Coast. Visit the Coastal Connection to take in the natural beauty and experience all there is to see and do here.
Alabama's southern tip is one of those places where even first-time visitors find a connection. Here, you'll experience the link between the traditions of the Deep South and a more laid-back island lifestyle, between the wildlife of thousands of acres of preserved lands and the good life of a beachfront vacation, and between the gunships of past naval battles and today's countless opportunities to enjoy our waters—including the dedication to conservation methods for the future.
Alabama's Coastal Connection has much to share. It beckons travelers to make their own connection and to learn more about the waters, ways and wildlife of Alabama's Gulf Coast.


Tell Us Your Story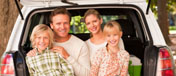 Have you made your connection to Alabama's Gulf Coast? Share your pictures, stories and memories, and tell us your favorite stops along the byway.