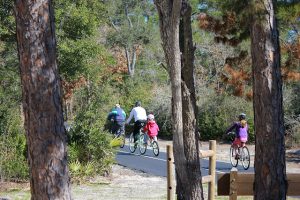 Down in coastal Alabama, fall takes its time getting here. We're still in shorts and flip flops well into October, while folks above the Mason-Dixon line are beginning to bundle up. But come November, slightly cooler temperatures beckon us outside to enjoy autumn on the Gulf Coast. If you're venturing along the beach byway this time of year, there's no better way to witness the changing of the seasons than to get out in nature. Hike or bike your way along Alabama's Coastal Connection and bear witness to the boundless beauty this time of year.
Headed to Gulf Shores and Orange Beach? Get your nature fix along the Hugh S. Branyon Backcountry Trail. Catch the changing seasons on the seven trails spanning more than 15 miles and six distinct ecosystems. Keep your eye out for the unique flora and fauna that inhabit the area, from white-topped pitcher plants to the American alligator.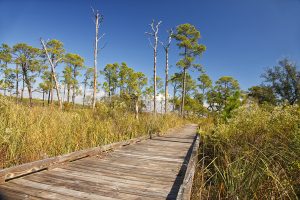 West of Gulf Shores at Fort Morgan, Alabama's wildlife and endangered species enjoy the safe haven known as the Bon Secour National Wildlife Refuge. More than 370 bird species as well as the red fox, Alabama beach mouse and sea turtle call these 7,000 acres of undisturbed paradise "home." Choose from four trails ranging in difficulty from easy to strenuous for a wonderful view of nature.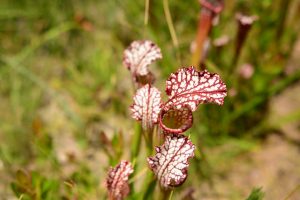 Nearly 500 acres of natural beauty make up the Graham Creek Nature Preserve in Foley. Visitors seeking autumnal nature views have options: the preserve boasts a 2-mile walking trail, a 5-mile hiking trail, a 7.5-mile bike trail and a 5K cross-country trail. You haven't experienced a Gulf Coast fall until you've seen the seasons change amongst the pine savannas, bottomland wetlands, mixed forests and tidal marshes.
Everything seems to move slower in the South, and the changing of seasons is no exception. Now's the perfect time to head outdoors to discover autumn along Alabama's Coastal Connection!